Wedding Photos
Lynn & Robert Pyle
Your task is not to seek for love, but merely to seek and find all the barriers within yourself that you have built against it.
Nikki and Carl Hyche at Mt. Bonnell
When love beckons to you follow him,
Though his ways are hard and steep.
And when his wings enfold you yield to him,
Though the sword hidden among his pinions
May wound you.
And when he speaks to you believe in him,
Though his voice may shatter your dreams
As the north wind lays waste the garden.
For even as love crowns you
so shall he crucify you.
Even as he is for your growth
So is he for your pruning.

The Prophet by Gibran Khalil Gibran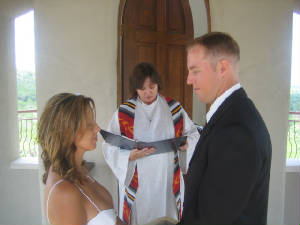 New Austinites Bibi and Ben Stortz
I don't want to live--
I want to love first,
And live incidentally.

Zelda Fitzgerald, letter to F. Scott Fitzgerald, 1919
Newlyweds Lenny and Ron.
Now you will feel no rain,
for each of you will be shelter for the other.
Now you will feel no cold,
for each of you will be warmth to the other.
Now there will be no loneliness,
for each of you will be companion to the other.
Now you are two persons,
but there are three lives before you: his life, her life and your life together.
Go now to your dwelling place to enter into your days together.
And may all your days be good and long upon the Earth.
-Apache Wedding Prayer
The very sweet (and highly tested) Erin and Brian